Complex Frigate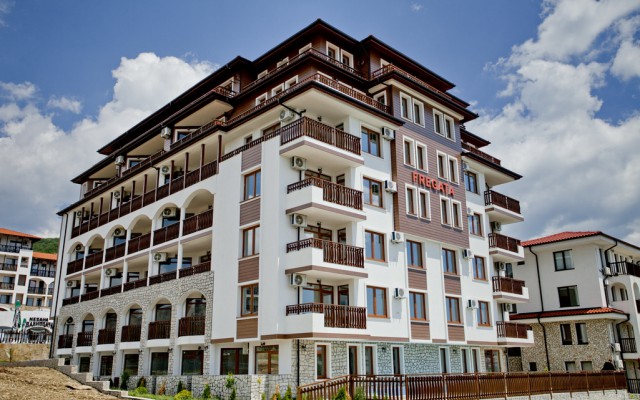 Reference number: Fregata
Price:

61 236

€ -

155 078

€
Quadrature: 37.29m2 - 110.77m2
Location:

Sveti Vlas

,

Bulgaria
Property: Complex
New jewel in the crown of luxury apartments near the beach in Sveti Vlas Bulgaria made ​​of "Dinevi Group " called " frigate " . Property complex is located just 250 meters sea, beach and yacht port "Marina Dinevi" . It consists of a building of average level . The apartments in the luxury property complex with magnificent views of the bay and the ancient town of Nessebar , recognized by UNESCO as World Heritage . Complex " Fregat ", located on the beach in Sveti Vlas Bulgaria is designed in NP "Old Bulgarian house " with spacious terraces , narrow windows, wooden gates , railings and staircases. Prostoranstvoto around the property is beautifully landscaped with natural vegetation as part of it is exotic . To comfort in the luxury complex is added and the presence of pool, year-round maintenance and security. Property complex located 250 meters from the beach consists of studios ranging from 31 m2 up to 68 square meters, one bedroom apartments of 63 square meters up to 65 square meters, two-bedroom apartments - from 76 m2 to 78 m2 and penthouses of 110 sq.m. up to 137 m2 The plan of the complex is designed so that pomti all the apartments have sea views. Value added of the offer to own a luxury apartment in complex " Fregat " is the fact that the apartments come with fully equipped bathrooms.

Apartments in luxury complex " Fregat ", which is located next to the beach in Sveti Vlas Bulgaria are priced from 980 Euros per square meter All property is offered with "turnkey " . Completion date of the property is June 2012. Buying an apartment in a smart beautiful and luxurious property on the beach in Sveti Vlas Bulgaria is a good investment property at sea in one of the most beautiful resorts in the country. Sveti Vlas combines the romance of the sea with fresh air and the power of the mountain. The combination of sea and mountain air , the lack of industrial enterprises , opportunities for rural, hunting , fishing, yachting and mountain tourism makes Sveti Vlas Bulgaria , a place unique in the world.

The complex:
Restaurant / Coffee
swimming pool
Shop 50 m
Church 400m
Amphitheater 400 m
Spa 400 meters
parking
Internet , satellite TV and telephone
air conditioning
Bus stop 30 meters
Disco / Nightclub 200 m
Airport 35 km
year security

Expected completion : June 2012
Maintenance fee : 500 euros per year.