Complex Chairite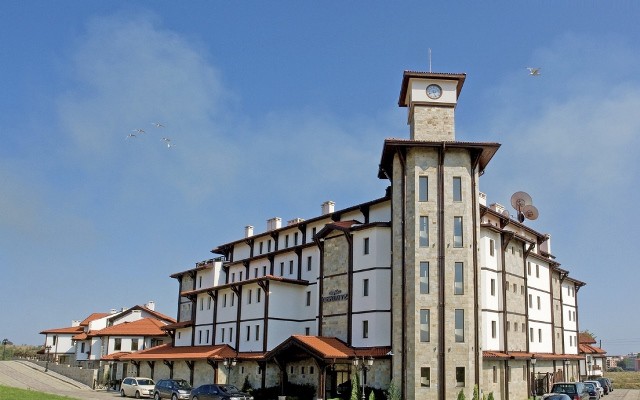 Reference number: ComplexChairite
Price:

28 671

€ -

120 000

€
Quadrature: 42.86m2 - 167.44m2
Location:

Kosharitsa

,

Bulgaria
Property: Complex
CHAIRITE Holiday Complex
Chairite Holiday Complex has been designed in old-times traditional Bulgarian style using wood and stone exterior cladding. The complex consists of 5 groups of gorgeous buildings: Moon, Sun, Eclipse, Sunrise, Sunset – names that should connote the main idea that is purity, beauty and living in harmony with nature. In the Chairite complex, you will be surrounded by spectacular scenery and wild nature. The complex is situated to the west of Sunny Beach sea resort, at the part where the Balkan Mountain is coming to its end. The complex offers unique combination between the freshness of mountain and the warmth of the coastline. It also features breath-taking view to the sea, Sunny Beach, Saint Vlas and Nessebar.
Location
Chairite Complex is situated at the Sunny Beach resort, near the village of Kosharitsa, a small, quite and beautiful old village that lies to the west of Sunny Beach, in the uphills of the Balkan Mountain chain. Kosharitsa is a wonderful place for vacationers as it is located in a very peaceful neighbourhood, yet it is just 10 minutes away from Sunny Beach, the biggest holiday resort on the Black Sea coast. The Burgas airport is approximately at a 25-minute distance. Sunny Beach is a wide, semi-rounded sea bay, 8 kilometers long, featuring marvelous golden sanded beaches. A number of opportunities exist for all kind of sports, including beach volleyball, windsurfing, water skiing, parachuting, yachting and motor boats as well as Aqua Park /a water park/, bicycles renting, horse riding school and mini-golf. There are over 100 hotels and 130 restaurants in Sunny Beach, only a couple of kilometers away you can also visit the historic town of Nessebar. The resort towns of Saint Vlas and Pomorie are nearby as well.
Investment
The Chairite complex is composed of 19 delightful two-storey and three-storey villas and a hotel with 35 apartments. The owners and their guests can enjoy a number of amenities: swimming pools, refined SPA procedures, a gym, a restaurant and many others.
The area of two-storey villas varies between 103 to 113 sq.m and the three-storey villas: between 141 and 153 sq.m respectively. Each apartment has 2 to 3 bedrooms where every bedroom has its own bathroom, there is still another bathroom on the 1st floor. The kitchen and the living room make a single space, there is also an adjacent balcony.
The location and the architectural design of the complex are a pretty solid foundation for a good return on capital and promise a great reniting potential. Investments in this zone have just started. The regulation plans project a number of infrastructure improvements and most likely roads that would go directly to the central area of Sunny Beach.
Amenities
Turkish bath
steam sauna, SPA procedures
sauna
various types of massages
lobby-bar
restaurant in traditional Bulgarian national style, tavern with outdoor garden
outdoor swimming pool with a section for children, indoor swimming pool
year-round, 24-hour security
Interior Design
The apartments consist of one or two bedrooms, living room, kitchen space, bathroom with WC. All apartments are fully furnished and equipped with electric appliances. All the furniture and all the appliances equipment Ready-To-Use are offered to our customers absolutely free of charge. The interior design has been based on the traditional old Bulgarian style. The floor coverings in the living room are made by Italian tiles and granite. The bedrooms have their floors fully covered by laminate paneling. The bathroom is also fully equipped and has ceramic tiles. Apartments are supplied with cable TV and internet. All residential premises are equipped with fire alarms.
The villas are being sold without furniture. We can offer to our customers 3 types of furniture packages, all of them at very competitive prices.

Maintenance fee – EUR 8 per sq.m per annum, VAT not included.
The terms of payment are to be negotiated. In order to obtain more detailed information, please do not hesitate to contact our agents.